It took us nearly six years, but we made it. And for us to hit 300 members today, on The X-Files 20th anniversary, somehow it feels like it was meant to be. You know. "Oh, the usual — Destiny, Fate, how to throw a curve ball... the inextricable relationships in our lives that are neither accidental nor somehow in our control either."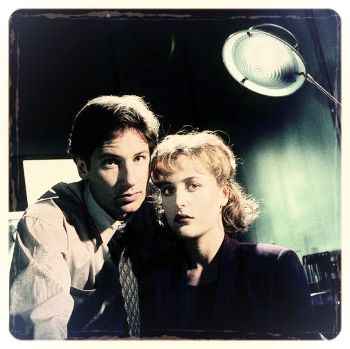 Some time ago, a member asked to have a more general post, so we could discuss our favorite genres, ships, tropes. This seems an opportune moment.

It's not a secret that I like gen fic best and PWP least. I love case files. I love humor. I love colonization stories. I love the kind of alternative universes that ask impossible questions. What if the real Fox Mulder wasn't returned during "Deep Throat"? What if after William's birth, Mulder didn't leave. What if he stuck around and bought a Volvo and then, before they had a chance to become a family, Scully was taken again. What if Scully had accepted the transfer to Salt Lake City? What if Mulder had been taken as was originally planned, and Samantha grows up and becomes an FBI agent?

So, what's your favorite kind of fanfic to read? To discuss? Is there a difference?

Is there a story you wish someone had written? If there is, please tell us and then go add it to the Wish List post at
xf_is_love. I can't make any promises, but maybe you'll get lucky.

Thanks to everyone who has participated over the years, to the people who keep showing up, story after story, and of course, to the wonderful XF fanfic writers who made it possible to have this discussion group in the first place. Much love to you all.